Easily create custom and dynamic SharePoint forms with no coding experience necessary! Compatible with SharePoint Online and On-Premises*.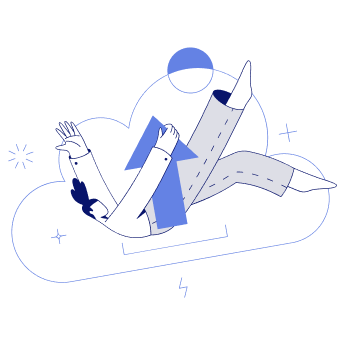 The Best Dynamic SharePoint Forms
Feel secure knowing that our custom forms data never leaves your Microsoft 365 tenant, ensuring maximal data privacy and security. KWIZ Forms allows SharePoint users to enhance their well-known list forms into powerfully dynamic web form tools.
By using SharePoint list forms as a foundation, enjoy all of our features without having to waste time relearning a new interface. Built with an intuitive design in mind, experience the freedom to create intelligent and versatile forms. No technical coding skills required. 
*On-Premises features may differ from the online versions.
A fortified SharePoint Forms solution
100% Secured SharePoint Forms
KWIZ Forms is the only forms solution that's implemented as a 100% pure client-side add-in which means none of the customer's data is sent to the vendor's cloud server. Your forms data never leaves your SharePoint Online/M365 tenant.
Additionally, by employing Microsoft's top of the line encryption technology, ensure that your data is being actively protected.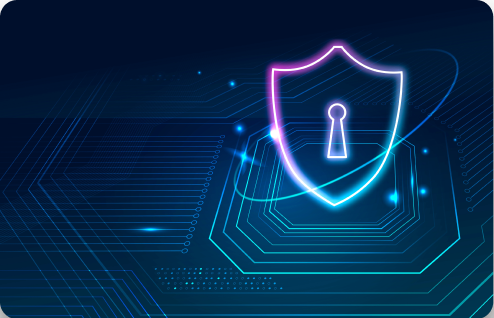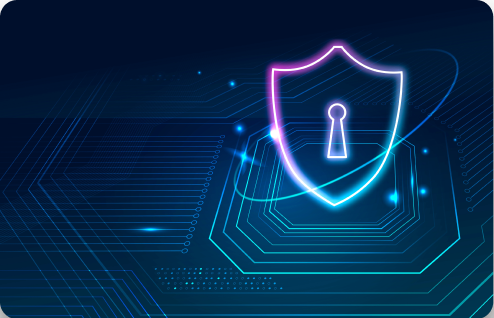 True SharePoint Native Forms
KWIZ Forms is 100% SharePoint native which means:
Save time in creating new forms (your list forms already exist, just enhance them!)
Continue benefiting from SharePoint's extensibility features, don't get locked in another "InfoPath-like" solution!
Keep the same look and feel as your current portal interface, no separate design required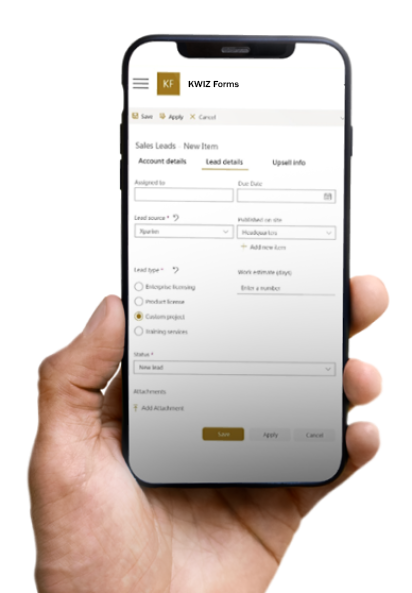 Modern UI for desktop and mobile
By utilizing Microsoft's Fluent UI Design System, KWIZ's modern forms are fully-responsive ensuring your forms support both desktop and hand-held devices. No need for separate form layouts for mobile browser and desktop!
Have the option to use the exact same KWIZ Forms you have in your SharePoint Online lists inside of your MS Teams channel!
*Available for online versions only
A comprehensible SharePoint Forms solution 
Easily connect your forms to external data sources
Effortlessly pull external data from any web accessible data source. KWIZ Forms is especially conducive to Azure functions/web apps.
*On-Premises version will not be able to utilize external data sources.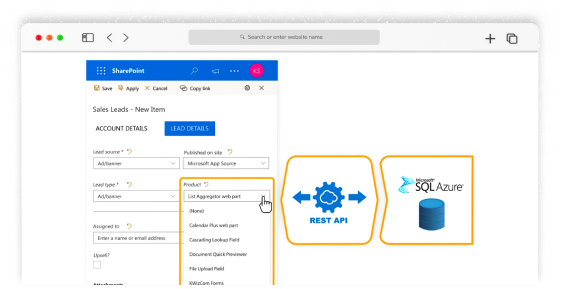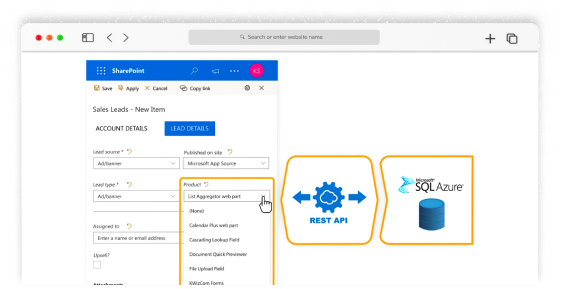 Automate business processes without becoming a "workflow expert"
Non-technical users can quickly and easily implement SharePoint's workflows. It's what its designed for. 
Automate otherwise complex business processes without having to mess with complex workflow designers. Realize your dream of a fully interactable and dynamic SharePoint site!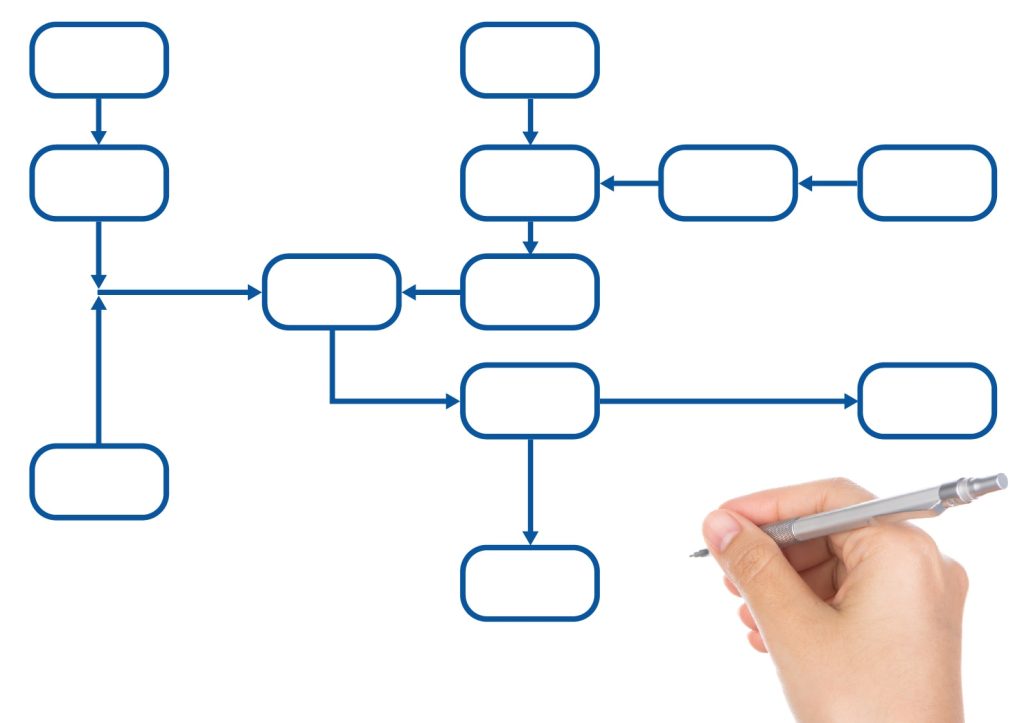 The fundamental KWIZ Forms experience, this starter package contains our most popular primary features. Available for SharePoint Online and On-Premises.
If you are looking for a more modular based SharePoint forms experience without all the bells and whistles, this package is for you.
Improve your collected data quality through logical field constraint conditions.
Create additional form tabs that will contain custom permissions for viewing.
Dynamically hide or disable fields depending on user conditions.
Replace your forms default values with your own custom and conditional values.   
Dynamic Column Permissions
Easily configure form field-validation rules to enforce logic conditions based on factors such as Email, IP address, or field length.
Validate Lookup and Person columns

 

Validate a field value compared to a regular expression

 

Manage and share custom validation rules across your organization

 

Automatically have dynamic rules apply depending on values of other fields and current user

 

Save field permission settings within the site and list templates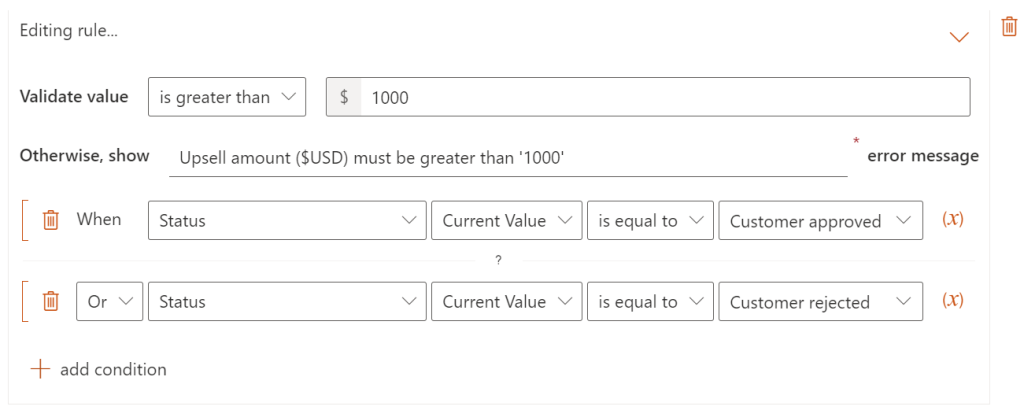 Dynamic Column Permissions
(Includes all Standard Edition features in addition to the following apps)
This intermediate level package includes all of the same features found in our Standard Edition in addition to four Pro features conducive for custom forms. Available for SharePoint Online and On-Premises.
Our advanced forms package contains additional web-parts for quicker navigation, and enhanced custom functionality. This package is great for organizations with a higher user count.
Save time constructing and editing lists through advanced lookup capabilities that can search across several SharePoint sites.
Breeze through edit/view forms without the need for going through additional list views.
Easily connect list values for efficient use of data which is great for applications such as the construction of expense sheets.
Keep lists and libraries in applicable hands through dynamic viewing permissions.
Enhances existing lookup columns with added searching capabilities.
Cross-site lookups

 

Filter lookups by view

 

Filter lookups by another column using cascading fields

 

Filter lookups by additional columns in the lookup list

 

Quickly add items to the lookup list

 

Display additional columns from a target list in a table with grid mode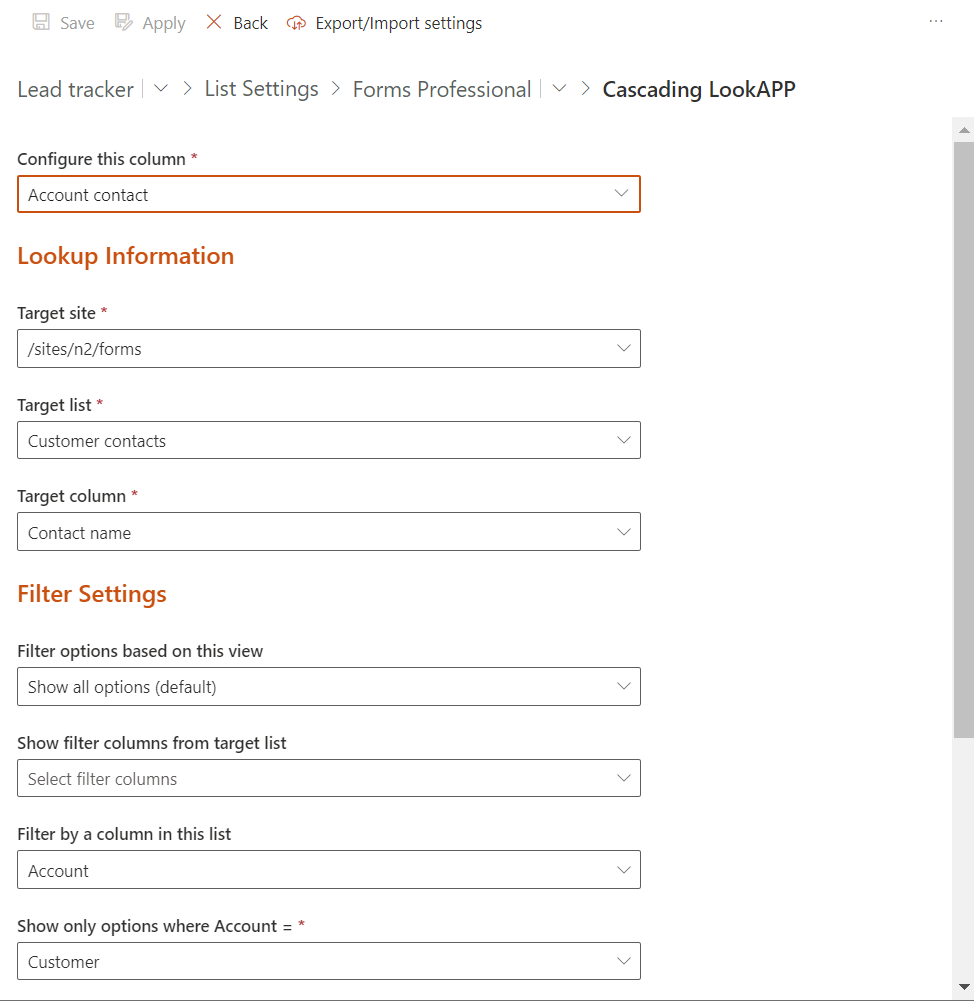 (Includes all Pro and Standard Edition features in addition to the following apps)
Our most comprehensive edition has all the features your business needs for custom forms. Available for SharePoint Online and On-Premises.
This package is the best enhancement for SharePoint forms on the market. This bundle has the highest value out of any forms package, and is great for organizations who truly want to see maximized results from their SharePoint forms.
Conduct static and sequential custom actions using workflow technology.
Create dashboard elements that will display custom timers and KPI statistics to keep your team focused and on-track.
Connect to and utilize data sources external to SharePoint, as well as control imported files through conditions such as size and type.
Authenticate content within SharePoint through use of a document signer and additional PDF merging and watermarking capabilities.
Save time looking for content by efficiently formatting form rows and columns though dynamic conditions and ease of use file searching functionality.
This feature adds activity's that do a specific task.
Send emails

 

Add items to a list

 

Copy items to a list

 

Delete items in a list

 

Update items in lists

 

Store column values in output variables

 

Call a rest webservice and return a value

 

Start a list workflow