KWizCom Forms App (Microsoft 365)
The BEST Alternative to InfoPath PowerApps
Home » Microsoft 365 Apps » KWizCom Forms App (Microsoft 365)
No-code,  dynamic SharePoint forms & workflows for desktop & mobile – without compromising data security & privacy!
Create your custom forms in Microsoft Office 365 by enhancing existing list forms. No need for complex SharePoint form designer or technical power-user skills!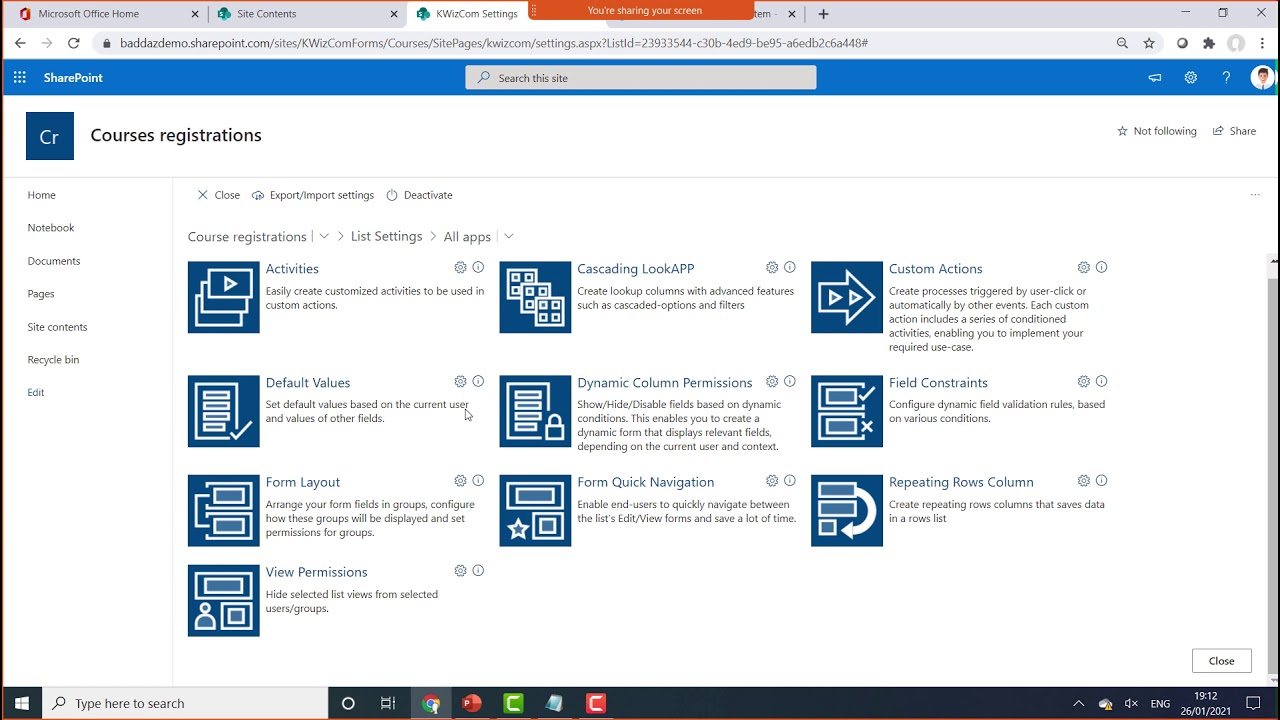 Resource Allocation & Equipment Reservation Made Simple in SharePoint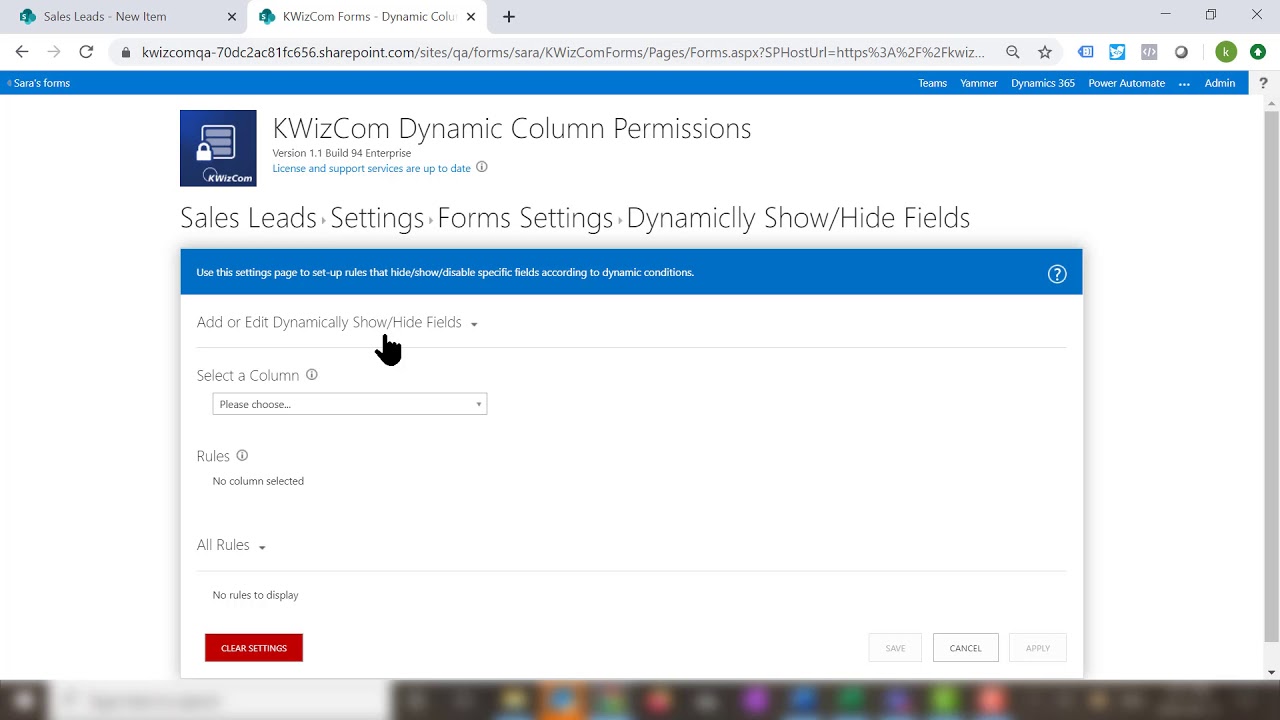 Dynamically show/hide fields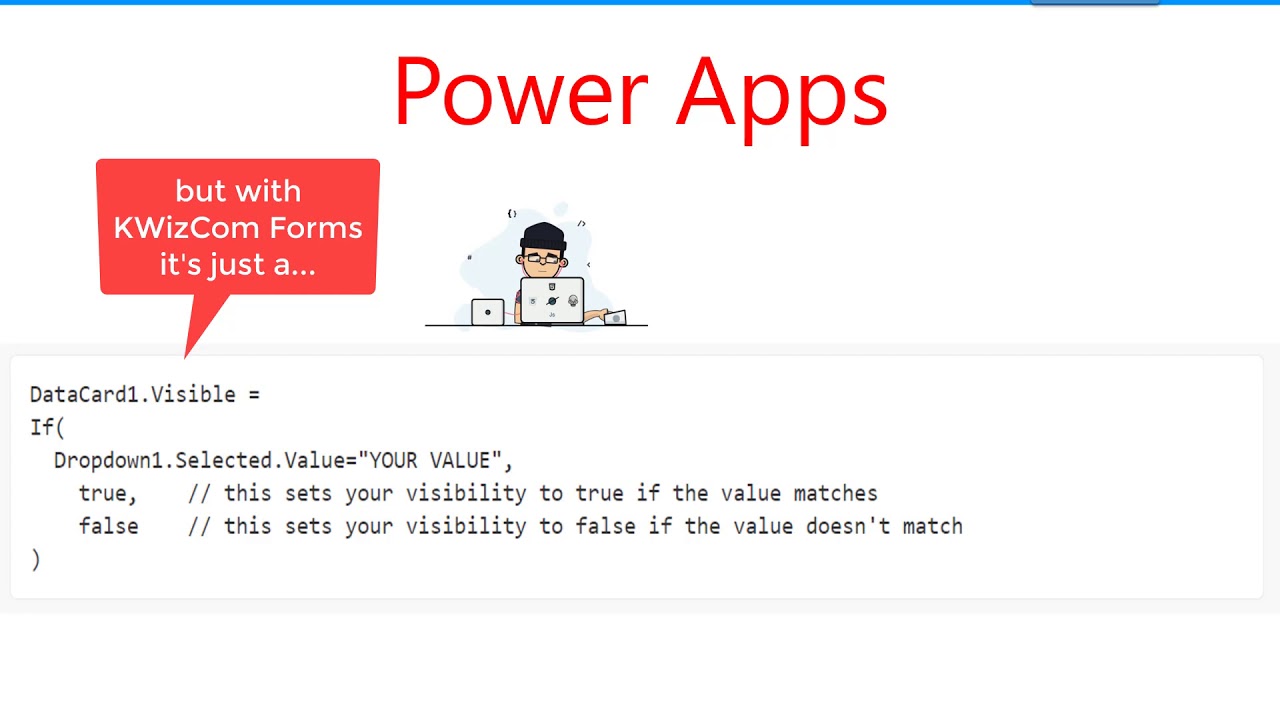 KWizCom Forms vs Microsoft Power Apps
Create dynamic & modern forms without being a forms designer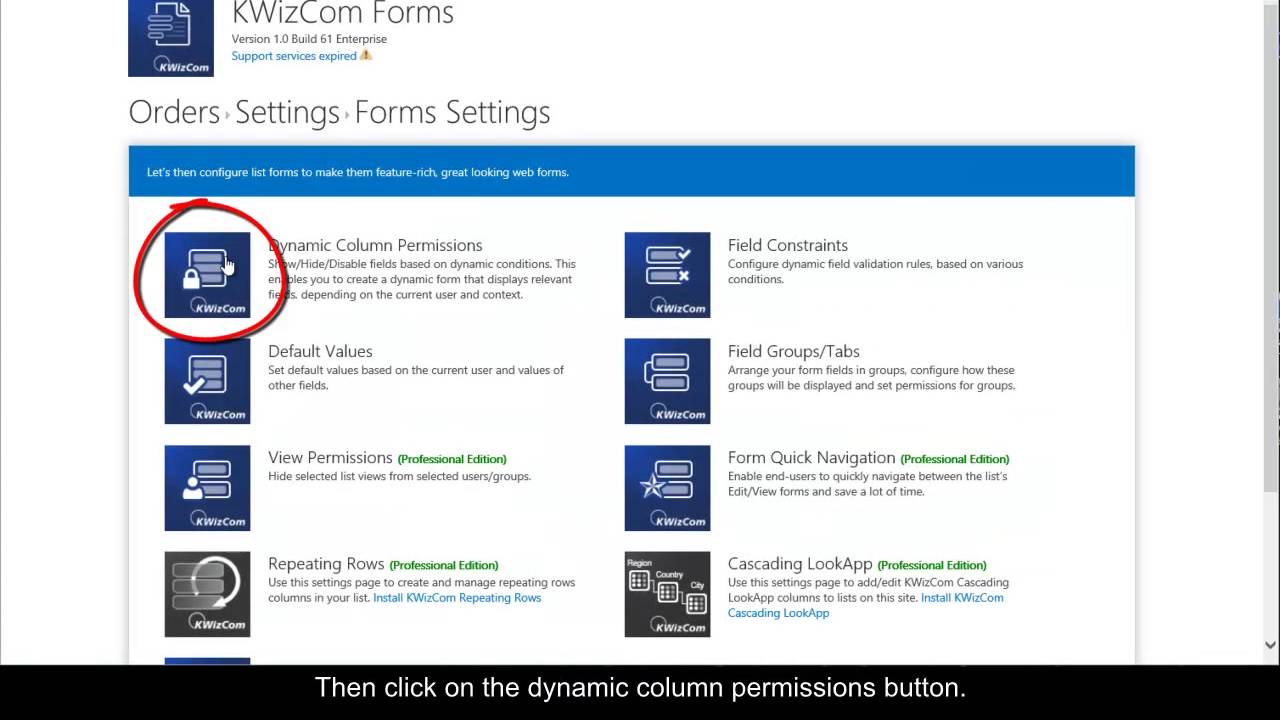 Easily hide columns from views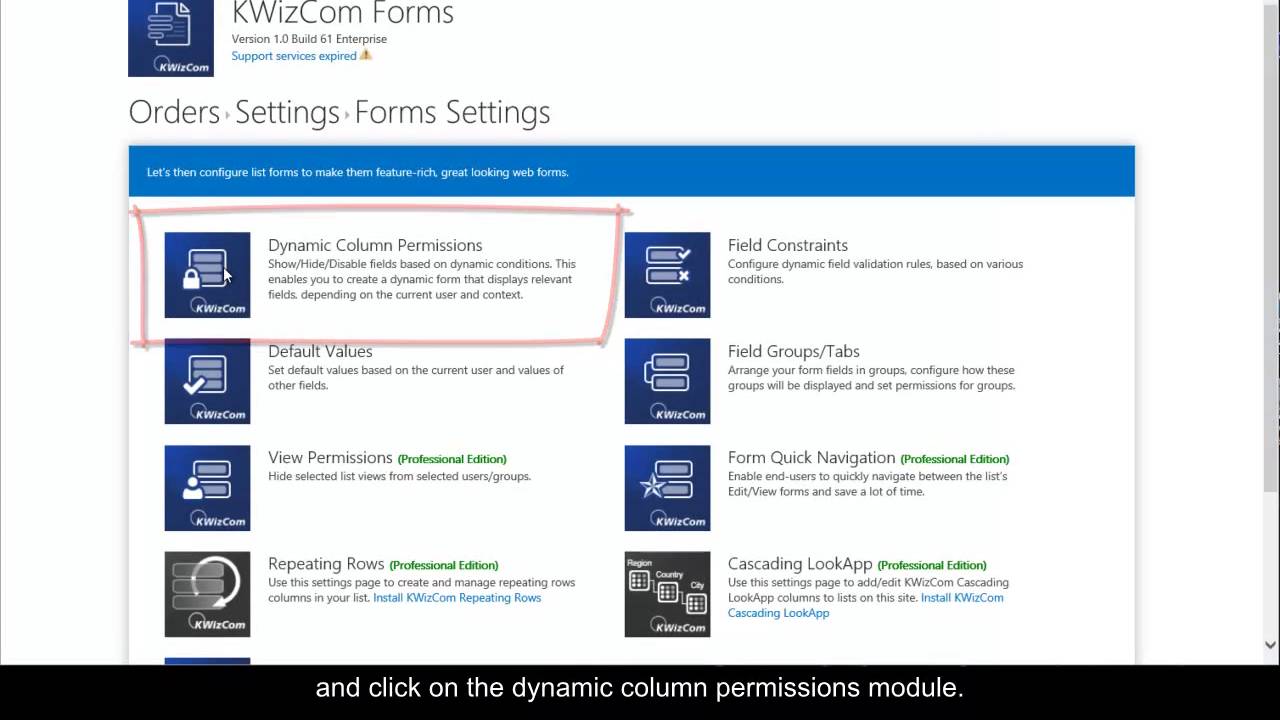 Easily disable fields in the Quick Edit view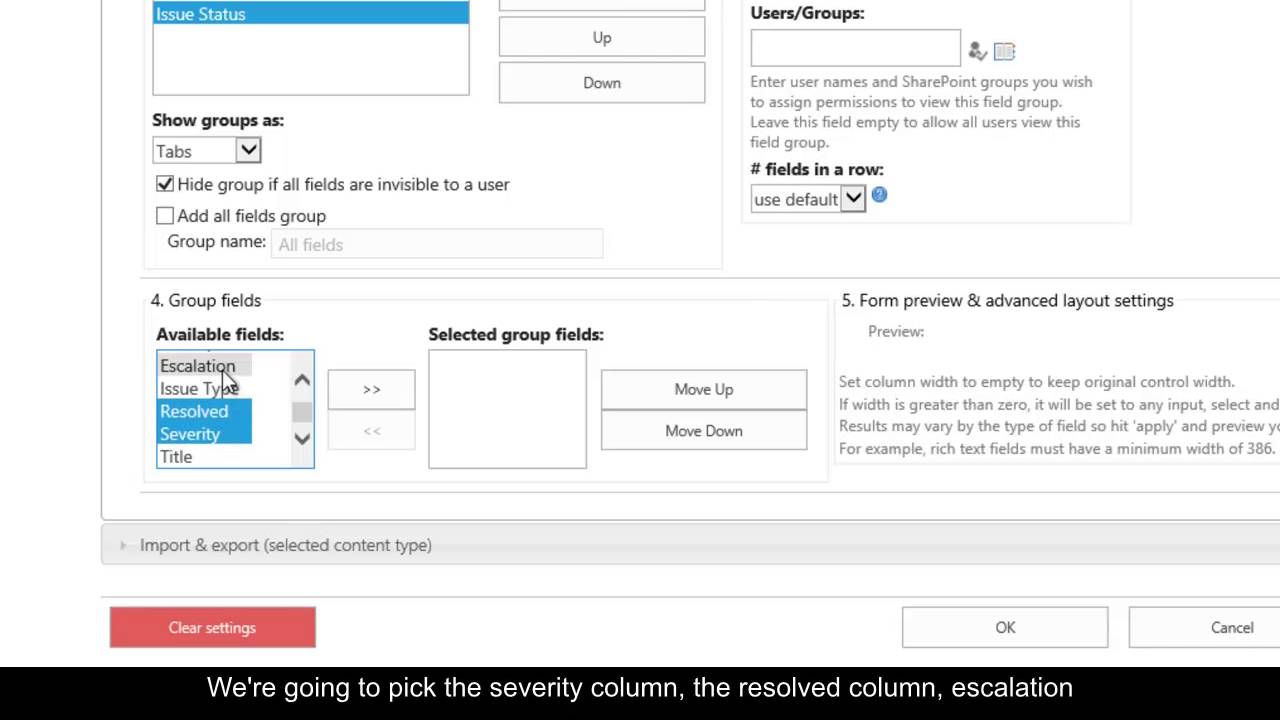 Quickly create multi-tab forms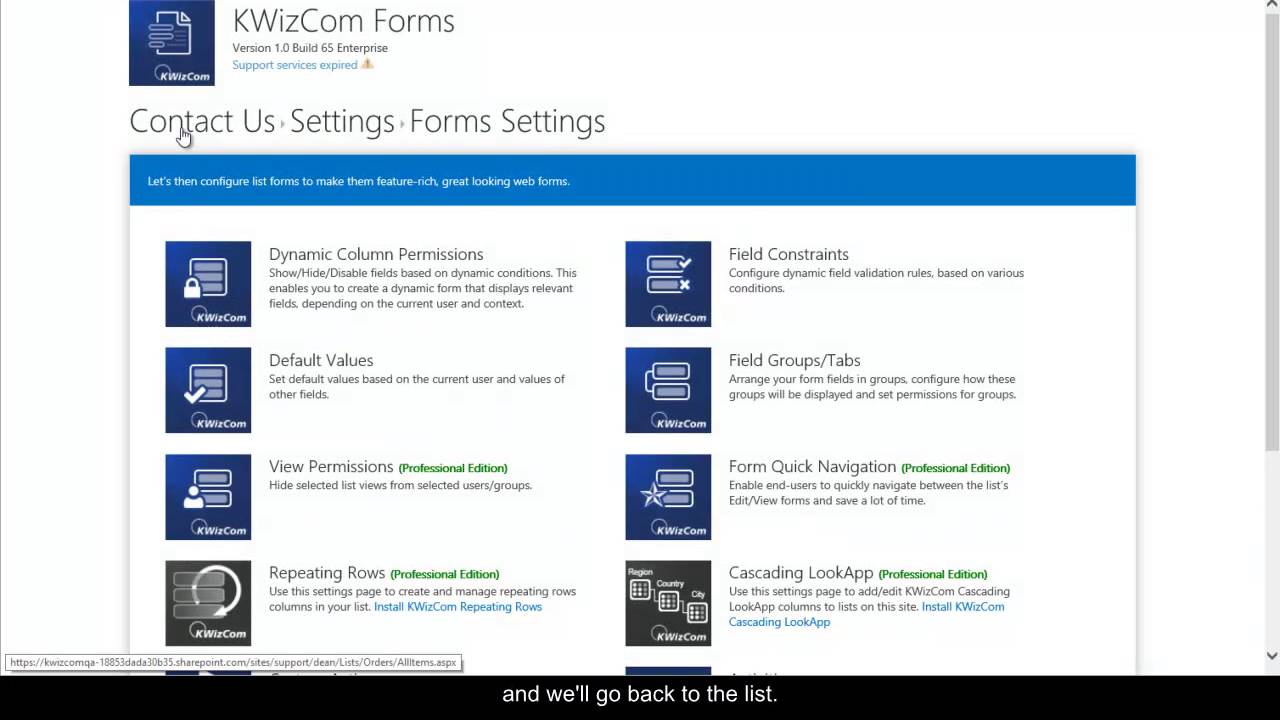 Easily implement advanced field validations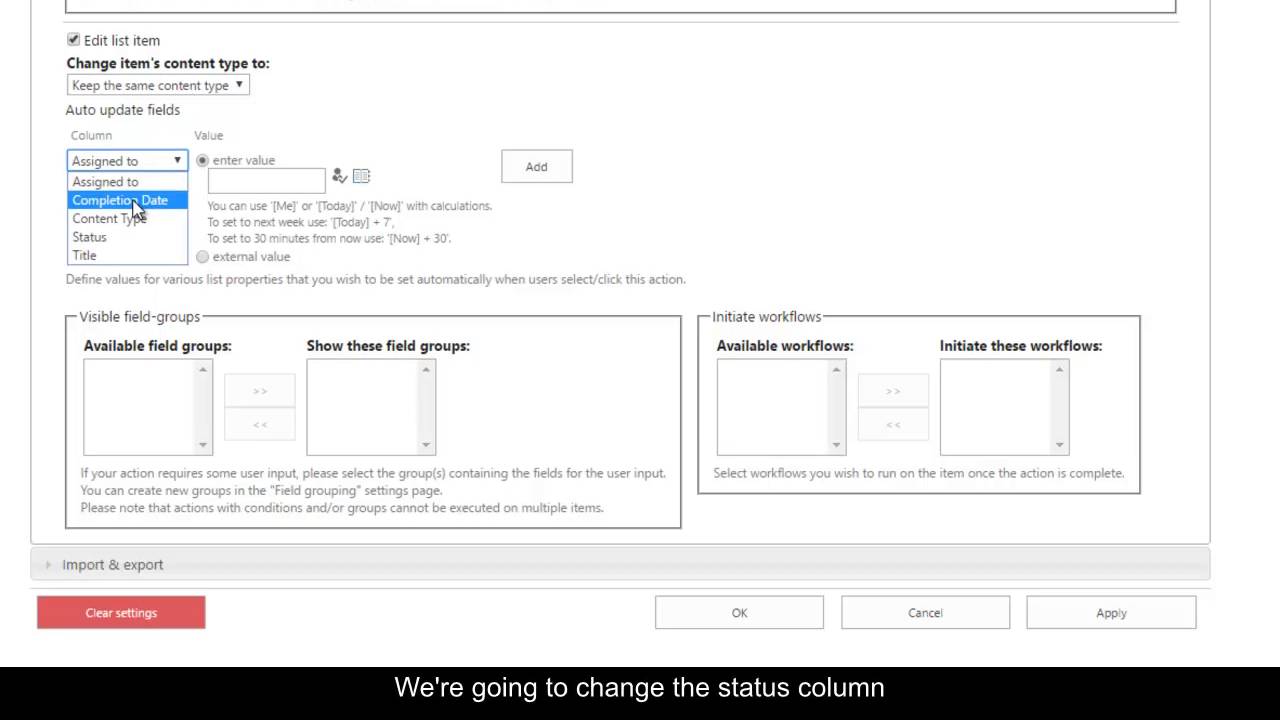 Save end-user time with custom ribbon buttons
The Business Need
Most Forms tools for SharePoint, such as InfoPath are designed for power-users. This makes the cost of ownership and maintenance higher, and power-users become a bottleneck when forms are required by various departments and teams in your organization.
KWizCom Forms was designed for SharePoint business end-users, enabling non-technical users to quickly create their required forms.
This completely changes the process and involved overhead of creating forms, enabling business users to become a lot more productive.
Check out SharePoint Forms in Microsoft Office 365: Challenges & Strategy whitepaper
Key Features & Benefits
| Feature | KWizCom Forms App Std. edition | KWizCom Forms App Pro. edition | KWizCom Forms App Ent. edition |
| --- | --- | --- | --- |
| Modern, fully-responsive forms | | | |
| Make selected fields hidden/inactive for specific users/groups in list forms | | | |
| Hide/disable fields according to dynamic criteria, based on column values and current user | | | |
| Hide column in list views | | | |
| Hide/disable columns in Quick Edit view | | | |
| Support dynamic tokens such as [Me] and [Today] in field-based criteria for hiding/disabling fields | | | |
| Dynamic field-validation rules | | | |
| Shared library of organization field validation rules | | | |
| Build custom rules using regular expressions | | | |
| Dynamic default values, based on default values of other fields | | | |
| Dynamic default values, different values for different users | | | |
| Field-groups/Tabs | | | |
| Multi-column forms | | | |
| Export/Import forms settings | | | |
| Attach multiple files to a form in one-shot | | | |
| Cascaded fields | | | |
| Repeating sections | | | |
| View permissions | | | |
| Form Quick Navigation: enable end-users to quickly navigate between the list's Edit/View forms and save a lot of time. | | | |
| Custom Actions: easy process automation without messing with complex workflow designers | | | |
| Print customized forms/ save as PDF | | | |
| KPI Column | | | |
| Url File Picker Column | | | |
| Conditional Formatting Column | | | |
| File Controller App - Have full control over attached files' type and max file-size | | | |
| Countdown column | | | |
| Script editor - easily enhance your forms using our javascript api | | | |
Related Products
Cascading LookApp (Microsoft 365)
Cross-site, filtered, SharePoint cascaded Lookup field for Microsoft Office 365
Best Seller
Repeating Rows App (Office 365)
Easily create SharePoint repeating section forms, no need to buy technical form tools!
Primary Version
Version
1.1.131
Modern 1.1.05
Base Version
1.1.131
Modern 1.0.92
Release Date
Jul-05-2021
Version 1.1.131
Modern 1.1.05, Jul-05-2021
| | |
| --- | --- |
| 7647 | Added: Ability to sort cascading lookup alphabetically |
| 7726 | Fixed: Item update failed in modern forms |
Version 1.1.131
Modern 1.0.92, Apr-26-2021
| | |
| --- | --- |
| 7567 | Fixed: ​Can not save a new item |
| 7570 | Fixed: Append text field shows old value in editor. Should be empty. |
| 7575 | Fixed: View is not hidden from dropdown menu when view permissions set to hidden |
Version 1.1.131
Modern 1.0.90, Apr-14-2021
| | |
| --- | --- |
| 7448 | Fixed: Cursor jumps to end of text field |
| 7486 | Fixed: IE show download "LastSite.json" message when navigate to any site if site in Compatibility View  |
| 7513 | Fixed: Time changes to one hour ahead in edit item |
| 7521 | Fixed: Can't enter decimal in number column |
| 7565 | Fixed: User is missing within people picker field |
Version 1.1.131
Modern 1.0.86, Mar-23-2021
| | |
| --- | --- |
| 7369 | Fixed: Field validation not working with users that have special characters |
| 7483 | Fixed: Can't correctly validate a user that has single quote in their user name |
| 7417 | Fixed: Column permission rule that validates mandatory field, prevents saving even though the field is not empty on the edit item page |
| 7444 | Fixed: ​The "From Display Name" option isn't working in Email activity |
| 7462 | Fixed: Metadata not showing in view item |
| 7486 | Fixed: IE show download "LastSite.json" message when navigate to any site if site in Compatibility View  |
Version 1.1.129
Modern Version 1.0.84, Feb-17-2021
| | |
| --- | --- |
| 7305 | Added: javascript editor enhancements |
| 7418 | Fixed: ​Can't save a new item on the SP2019 |
Modern Version 1.0.77, Jan-06-2021
| | |
| --- | --- |
| 7235 | Added: Update modern forms style samples |
| 7254 | Fixed: Document not loading in Repeating Rows edit item |
| 7243 | Fixed: Style editor - changes are not saved in modern forms |
Modern Version 1.0.75, Dec-24-2020
| | |
| --- | --- |
| 7234 | Added: javascript api samples |
| 7245 | Fixed: extra digits appearing in total column for Repeating Rows |
| 7246 | Fixed: Automatic action not working on list |
| 7251 | Fixed: Groups in conditions can not be saved |
| 7253 | Fixed: Cant create a new item - "Item update failed" message |
| 7260 | Fixed: ​Field constraint rule does not apply |
| 7262 | Fixed: ​Person field does not save the value |
Version build 1.1.126
Modern Version 1 build 71, Dec-12-2020
| | |
| --- | --- |
| 7137 | Fixed: Date and time field is not rendering correctly in Modern Forms |
| 7148 | Fixed: Hidden Column in Content type list appears in Modern Forms |
| 7187 | Fixed: ​When clicking on the edit item error message appears |
| 7190 | Fixed: "Previous link caption" and "Next link caption" properties have no affect in modern forms |
| 7193 | Fixed: Modern condition editor doesn't show SharePoint groups that are visible in classic condition editor |
| 7210 | Fixed: Custom Action History button redirects to different page |
| 7224 | Fixed: It takes about 2-3 minutes for the custom action button to show/disappear |
| 7142 | Fixed: Pattern not saving in Field Constraints |
| 7185 | Fixed: slow loading times occurring in view item |
| 7198 | Fixed: Error occurs on date field when saving form |
| 7207 | Fixed: View permissions rule is not hiding the view |
| 7219 | Fixed: Disabled column using column permission is editable on the grid view |
Version build 1.1.121
Modern Version 1 build 64, Nov-19-2020
| | |
| --- | --- |
| 7122 | Fixed: Repeating Rows and the Cascading LookApp links are unclickable from the Forms setting page |
| 7126 | Fixed: Modern forms add attachment file is overlapped using hebrew language |
| 7129 | Fixed: In modern forms, no ability to use negative numbers in Number Field |
| 7135 | Fixed: Information about what value is stored in activity's output variables is missing |
| 7160 | Fixed: On classic forms if there are no import warnings, we do not see a popup message |
| 7165 | Fixed: Tasks list always treated as if it has forms app classic configured |
Version build 1.1.119
Modern Version 1 build 62, Nov-11-2020
| | |
| --- | --- |
| 7068 | Fixed: Lookup options are overlapping other elements (App on 2019 server) |
| 7078 | Fixed: Attachments field is overlapping elements when using IE |
| 7083 | Added: Enable adding custom javascript to modern forms (modern forms) |
| 7096 | Added: Enable copying a custom action (modern forms) |
| 7097 | Fixed: System columns missing from custom action edit variable popup |
| 7115 | Added: allow acitvites to operate on multiple items |
| 7116 | Fixed: Form cannot be saved if DateTime field has no value |
| 7141 | Fixed: New/Edit/View item in Modern list do not redirect to classic form and open out-of-the-box panel |
Version build 1.1.116
Modern Version 1 build 51 (RC2), Oct-11-2020
| | |
| --- | --- |
| 4848 | Added: Enable importing SLFE settings |
| 6709 | Added: Add possibility to use special math characters like '-', '+' as string between numeric and string fields |
| 6778 | Fixed: Can't update activity item using managed metadata item column |
| 6869 | Fixed: ​Column Permission issue hiding a text field based on the Date and Time field rule |
| 6914 | Fixed: YES/NO field not working with custom actions |
| 6919 | Fixed: Forms features are not showing in view item within IE |
| 6920 | Fixed: In Modern Forms, in the currency field, you can't enter a number with a decimal and zero after |
Version build 1.1.107
Modern Version 1 build 45 (RC2), Sep-14-2020
| | |
| --- | --- |
| 6907 | Fixed: Adding the Countdown column to a tab will make the tab hidden |
| 6911 | Fixed: Modern print preview is missing a scroll |
| 6938 | Fixed: "Copy item" ribbon button issues |
| 6944 | Added: Change "Back" to "Cancel" in modern settings pages |
| 6945 | Fixed: Clicking "Back" (Cancel) in modern settings pages - still changes appear to be saved |
| 6946 | Fixed: Missing tooltips in modern settings pages |
| 6947 | Fixed: Accesibility issue - no way to set the focus on a rule by using Tab key |
| 6948 | Fixed: Multi-choice column rendered with radio-buttons in modern settings pages |
| 6950 | Fixed: Date column display issue in forms app modern settings page |
| 6951 | Fixed: Yes/No column in condition editor is always inactive (cannot be checked) in modern settings pages |
| 6937 | Fixed: Default Values are gone |
| 6952 | Fixed: The process Form is getting called too early, the field control values not populated yet |
Version build 1.1.103
Modern Version 1 build 43 (RC2), Aug-17-2020
| | |
| --- | --- |
| 6860 | Fixed: A multi-line field doesn't work with Dynamically show/ hide fields rule in Modern Forms |
| 6864 | Fixed: Required columns in Content type do not appear as required columns in Modern Forms |
| 6908 | Fixed: Deleting lookup item which has default value breaks forms app modules |
| 6909 | Fixed: Form Layout tabs not appearing in edit item |
Version 1.1.96
Modern Version 1 build 39 (RC2), Jun-30-2020
| | |
| --- | --- |
| 6859 | Fixed: The "add activity" menu closes automatically too fast |
| 6878 | Fixed: Custom Action History button is missing in modern list view |
Version 1.1.95
Modern Version 1 build 39 (RC2), Jun-30-2020
| | |
| --- | --- |
| 6801 | Fixed: missing tooltips in modern forms |
| 6821 | Fixed: Typo in modern kwizcom apps page |
Version 1.1.95
Modern Version 1 build 38 (RC2), Jun-25-2020
| | |
| --- | --- |
| 6795 | Fixed: Change "Field Groups" to "Form Layout" |
| 6797 | Fixed: Modern forms RR license message changed |
Version 1.1.95
Modern Version 1 build 35 (RC2), Jun-16-2020
| | |
| --- | --- |
| 6732 | Fixed: Disable rule doesn't work on a RR column in modern forms |
| 6777 | Fixed: Info icon gets duplicated when field has condition |
| 6781 | Fixed: User field default value when the user has the same display name is not resolved properly |
| 6782 | Fixed: If user has a huge tab it is not loading the first time. It is loading after refresh |
| 6783 | Fixed: ​"My Issues" view configured as hidden is visible due to MS API change |
Version 1.1.94
Modern Version 1 build 28 (RC1), Jun-01-2020
| | |
| --- | --- |
| 6669 | Added: Enable update lookup, multi-lookup and RR columns using 'update' activity |
| 6695 | Added: Improve performance of retrieving all sub-sites when creating a new activity |
| 6718 | Fixed: Caching issue is causing the view to be missing from the view permissions settngs page |
| 6721 | Fixed: Cant attach files if mandatory fields are missing from field group |
| 6728 | Fixed: Can't add decimal to currency field in modern forms |
| 6729 | Added: Change logic switching to modern forms |
| 6741 | Fixed: Clicking "Apply" redirects me out of the page |
| 6753 | Added: Add support for metadata column to Custom Actions conditions |
| 6756 | Fixed: Forms are not rendering in IE (IE in IE-10 mode) |
Version 1.1.91
Modern Version 1 build 25 (RC1), May-13-2020
| | |
| --- | --- |
| 6648 | Fixed: "," appears in currency column in view mode (Modern forms) |
| 6665 | Added: Improve performance when form has hundreds of fields |
| 6679 | Added: Do not allow AD groups to be selected in people picker in Form settings/conditions |
| 6687 | Added: Improve the CSS editor for modern forms app |
Version 1.1.87, May-07-2020
| | |
| --- | --- |
| 6646 | Fixed: Have to click reload in browser to see forms features in IE |
| 6653 | Fixed: The KWizCom settings buttons are not clickable using IE and Edge |
| 6657 | Added: Add list-level css editor (modern forms) |
Version 1.1.86, May-01-2020
| | |
| --- | --- |
| 6608 | Fixed: Forms app features are not displaying in IE |
| 6643 | Added: Make Cascading Lookup field work inside Repeating Rows (Modern) |
| 6644 | Added: Allow adding attachments to repeating rows items (Modern) |
| 6645 | Fixed: Internal field names with regular expression special characters need to be escape |
Version 1.1.85, Apr-20-2020
| | |
| --- | --- |
| 6526 | Fixed: User shows undefined if user is not ensured within default values |
| 6594 | Fixed: Missing 'Custom Action History' button in modern list view |
| 6500A | Added: Enable switching to modern forms |
Version 1.1.83, Apr-14-2020
| | |
| --- | --- |
| 6485 | Fixed: Email activity will not take the current value in a field if not in any group |
Version 1.1.82, Mar-31-2020
| | |
| --- | --- |
| 6486 | Fixed: Dynamically shown fields not assigned to a tab will show outside of the tab frame |
Version 1.1.81, Mar-19-2020
| | |
| --- | --- |
| 5073 | Added: Dynamically show/hide field groups (tabs/sections) |
| 6483 | Added: Optionally expand form fields to capture entire column width |
Version 1.1.79, Mar-12-2020
| | |
| --- | --- |
| 6375 | Added: Improve license trial message |
Version 1.1.76, Feb-06-2020
| | |
| --- | --- |
| 6309 | Added: Change External user accounts license check |
| 6318 | Fixed: Enhanced rich text fields will not appear disabled even though they are |
| 6319 | Fixed: KW Forms apply button redirects back to the list view instead of the edit form |
| 6369 | Fixed: Ribbon actions are modifying items as apps.kwizcom.com instead of the logged in user |
Version 1.1.73, Nov-06-2019
| | |
| --- | --- |
| 6281 | Added: Support group sites |
| 6294 | Fixed: KWizCom Forms' multi file attachments does not work with classic teams sites created under a MS Teams group site |
| 6300 | Fixed: Cascading Lookapp and Repeating Rows appear grayed out in the KW Forms app even if they are installed |
| 6303 | Fixed: Hyperlink fields do not appear disabled when actually disabled using the KWizCom Forms app |
Version 1.1.70, Oct-24-2019
| | |
| --- | --- |
| 6235 | Fixed: Forms app does not show siteID or enterprise modules in IE |
| 6272 | Fixed: Activity settings page will not switch to the tab where validation error occurs |
| 6276 | Fixed: Custom Action button sometimes is missing from the view item page |
| 6289 | Fixed: Having a long description for a field will spawn a scrollbar in KWF Forms Layout |
Version 1.1.68, Aug-28-2019
| | |
| --- | --- |
| 6181 | Fixed: No way to set up a rule where [person field] =/= [another person field] |
| 6221 | Fixed: Wrong message displayed when adding app to Group site |
Version 1.1.67, Aug-16-2019
| | |
| --- | --- |
| 6207 | Fixed: Modern "details" pane not hidden as configured |
Version 1.1.67, Aug-16-2019
| | |
| --- | --- |
| 6207 | Fixed: Modern "details" pane not hidden as configured |
Version 1.1.66, Aug-09-2019
| | |
| --- | --- |
| 6195 | Added: Enable dynamically hide the modern "details" pane |
| 6201 | Added: Support view permission rules in modern lists |
Version 1.1.62, Jun-30-2019
| | |
| --- | --- |
| 6134 | Fixed: KWizCom Forms view permissions does not show accurate choices after view has been deleted from the list |
| 6166 | Fixed: Initially opened accordion group shows a + instead of - |
Version 1.1.60, Jun-14-2019
| | |
| --- | --- |
| 6112 | Added: add rich-text editor to email activity |
| 6124 | Fixed: Field grouping text area cannot be edited after creation |
| 6125 | Added: Adjust text area field width to the width of other fields on the same column |
Version 1.1.58, May-12-2019
| | |
| --- | --- |
| 6067 | Fixed: Custom Action - add support for SP2013+ workflows |
| 6075 | Added: Add system fields to forms conditions |
Version 1.1.55, Mar-12-2019
| | |
| --- | --- |
| 6011 | Fixed: Custom Actions - cannot add activity group with conditions |
Version 1.1.54, Feb-26-2019
| | |
| --- | --- |
| 5967 | Fixed: Can't use the "Name" column from the document library in KWizCom Forms |
| 5976 | Fixed: Field validation condition based on a numeric field doesn't work if value is less than 0 |
Version 1.1.52, Feb-05-2019
| | |
| --- | --- |
| 5961 | Fixed: Radio buttons do not show their value in edit form when field grouping is used |
Version 1.1.51, Jan-30-2019
Version 1.1.49, Jan-21-2019
| | |
| --- | --- |
| 5941 | Fixed: repeating rows fields used with field grouping does not render cleanly on the page (horizontal/vertical) |
Version 1.1.47, Jan-16-2019
| | |
| --- | --- |
| 5903 | Fixed: Custom actions conditions do not work with SharePoint user groups |
| 5932 | Fixed: Person field doesn't show its configured default value |
| 5931 | Fixed: repeating rows fields used with field grouping does render cleanly on the page |
Version 1.1.45, Nov-26-2018
| | |
| --- | --- |
| 5864 | Fixed: Using the [fieldname] token to populate a default value in date field does not populate the correct date |
| 5885 | Fixed: Having an email activity with 2+ person fields as the recipient does not work |
Version 1.1.42, Nov-06-2018
| | |
| --- | --- |
| 5863 | Fixed: Default Values [Today] token does not observe regional settings |
Version 1.1.41, Oct-05-2018
| | |
| --- | --- |
| 5853 | Fixed: Yes/No fields do not dynamically hide/show fields |
Version 1.1.40, Sep-24-2018
| | |
| --- | --- |
| 5792 | Fixed: calculated fields can't be used in a condition with custom actions |
Version 1.1.38, Aug-29-2018
| | |
| --- | --- |
| 5801 | Fixed: Lists with additional content types using KWizCom Forms will spawn a navigation confirmation when an item is saved while editing |
| 5810 | Improved: KWizCom Forms activities requires that a user has admin permission to the site collection. Now, if the user doesn't have access to the site collection the list of webs is filtered to only show webs and sub webs starting from the current web |
| 5815 | Added: add + and - collapse/expand icons to accordion groups |
Version 1.1.36, Jul-24-2018
| | |
| --- | --- |
| 5500A | Fixed: Resolve collision with Microsoft's one page navigation |
Version 1.1.35, Jul-19-2018
| | |
| --- | --- |
| 5742 | Fixed: Hidden mandatory fields will still trigger their constraint |
| 5746 | Fixed: custom actions with user group based conditions do not trigger correctly |
| 5756 | Fixed: Blank fields will prevent custom action emails from being sent out |
| 5757 | Fixed: choice fields/attachment fields will prevent custom action emails from being sent out |
| 5758 | Fixed: enhanced rich text fields will display markup when contents are sent out in an email via custom actions |
| 5759 | Improved: Field permissions and field grouping does not detect calculated fields |
| 5762 | Added: Display a warning if a user navigates away from a form without saving changes |
| 5763 | Added: Add "Apply" button to the Edit Item form to enable saving without leaving the form |
| 5771 | Fixed: property doesn't load in activity settings page for multi-choice lookup |
| 5772 | Fixed: Forms app causes performance issue with date picker field |
| 5773 | Fixed: scroll bar is shown in pop out Forms window when Cascading Lookup field is within a fields group tab |
Version 1.1.30, Jun-06-2018
| | |
| --- | --- |
| 5628 | Improved: don't allow users who don't have admin permissions to view the forms app settings page. |
| 5671 | Fixed: Hidden mandatory person fields will prevent attachments from being attached |
| 5673 | Fixed: Custom actions "editable fields " still shows all fields regardless of selection |
| 5686 | Fixed: "Created/Modified By" fields do not show up when mapping a custom variable in custom actions |
| 5720 | Fixed: Creating a copy item activity does not save |
| 5685 | Fixed: person/group fields cannot be used in the email recipient field |
Version 1.1.28, May-09-2018
| | |
| --- | --- |
| 5641 | Added: Allow accordion groups to be opened at the same time |
| 5668 | Added: Users who do not have permissions to see any field groups will see an empty form + message |
| 5670 | Fixed: Custom actions which are deleted will still appear in the ribbon but disabled |
| 5682 | Improved: make sure forms app redirects to classic forms |
| 5683 | Added: Enable configuring field caption aliases in Field Groups/Tabs page |
Version 1.1.26, Apr-25-2018
| | |
| --- | --- |
| 5642 | Improved: Hide custom action buttons in the ribbon when conditions are not met |
| 5683 | Added: Enable configuring field caption alias in Field Groups/Tabs page |
Version 1.1.25, Mar-21-2018
| | |
| --- | --- |
| 5517 | Improved: Enable validating the Attachments field and including it in conditions |
| 5619 | Improved: Allow attaching multiple files in one-shot |
| 5500A | Improved: Field Groups settings page improvements |
Version 1.1.18, Feb-22-2018
| | |
| --- | --- |
| 5376 | Improved: Field Groups/Tabs: When changing column colspan in a group for some reason it removes all empty rows |
| 5377 | Fixed: highlighted column due to validation error stays highlighted even after I corrected the error. |
| 5491 | Improved: add ? link to forms app user guide |
| 5512 | Fixed: repeating rows field will show loading when printed using the SLFE built in print feature |
| 5527 | Added: Enable adding the 1st row in the field groups designer |
| 5581 | Added: Remove the "Print" button from the View item form |
| 5493 | Fixed: Quick navigation links do not work |
| 5497 | Fixed: The new filters added to the cascading LookApp stretch the entire form |
| 5575 | Fixed: tokens that pull from a person/group field break emails sent via custom actions/activities on o365 |
Version 1.1.14, Feb-09-2018 - Base version
| | |
| --- | --- |
| 5568 | Fixed: field tokens do not work in field constraints within forms app |
| 4944 | Added: Stop validating hidden fields |
| 5550 | Added: Build forms api |
| 5571 | Added: Support multi-line default value for multi-line text field |