About Bucher Emhart Glass
Established in 1902, Bucher Emhart Glass is the world's leading international supplier of glass container manufacturing solutions, including equipment, controls, parts, and support. Headquartered in Steinhausen, Switzerland, with facilities across Europe, the US and Asia, this global bottle manufacturer produces some of the most well recognized glass forming and inspection machines that are installed all around the world. Around 1 in 2 bottles are made by Bucher Emhart Glass forming machines.
Bucher Emhart Glass was working with a variety of IT platforms and solutions from a multitude of vendors to support video conferencing, email and employee collaboration for around 900 users worldwide. Staff were able to create "communities" in order to collaborate, but over the years this had significantly spiralled out of control accounting for more than 500 communities, as well as millions of email attachments and shared files littered across the business.
A new initiative launched in 2021 focused on redesigning the current IT landscape to streamline the IT solutions within the business and clean up the IT environment. Dominik Durrer, Global IT Manager at Bucher Emhart Glass explains: "We needed to adopt a more coherent and controlled approach to IT, improve integration with one single solution and ultimately drive greater collaboration across the business."
The project commenced with the introduction of Microsoft Cloud to manage mailboxes and migrate staff from the incumbent email solution into the same cloud environment. Dominik continues: "Deploying Microsoft Cloud services really made sense, as the other tools within the Microsoft 365 suite, such as Teams and SharePoint, could replace the various systems in place around the organisation, so we would finally be working with one single solution – this fitted in perfectly with our overall strategy."
Looking beyond the mailbox, another core objective was to boost employee collaboration through the adoption of Microsoft Teams. However, a key requirement for Dominik and his team was the need for an established governance solution to not just manage data storage, but to also effectively control the creation of Microsoft Teams to avoid IT sprawl in this new environment.
The ProvisionPoint Solution
With a brand new Microsoft 365 tenant in place, Bucher Emhart Glass was determined to implement a tightly governed structure for the business to maintain control and manage sprawl once and for all. An internet search introduced ProvisionPoint to the IT team and after a review of the Microsoft 365 workspace governance solution, ProvisionPoint Workspaces, it was identified as the ideal fit.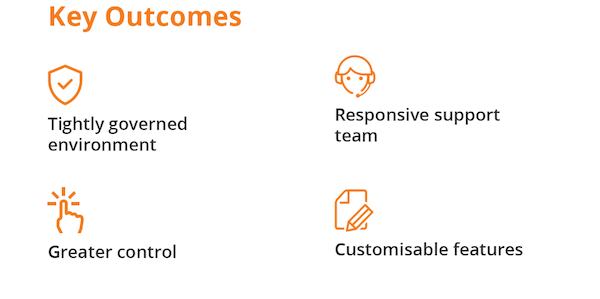 Dominik goes on: "We are able to use ProvisionPoint Workspaces in Service Mode which means no-one is an owner of a Team – and not everyone can request a Team – all end users are members. This is a unique way of deploying Microsoft Teams, but it gives us much greater control – which is exactly what we were looking for. Those who can create a Team are well trained in using Teams and I remain confident that every Team is set up correctly, with proper management and full governance in place."
"We needed a powerful Microsoft 365 workspace governance solution to avoid replicating the previous situation. The ability to deploy Service Mode in ProvisionPoint Workspaces was a game changer and real USP for us. We have created a set of our own service definitions and now manage just 113 Teams. The structure is clear and follows a coherent naming convention where it's easy to identify and manage all the Teams in one place."
With a Microsoft Azure service instance of ProvisionPoint Workspaces located in Switzerland, it also reassures the business that this is a highly-secure solution that maintains governance and compliance over SharePoint and Teams.
Dominik concludes: "ProvisionPoint Workspaces is a well-established SaaS solution and really easy to deploy. The ProvisionPoint implementation team has been really supportive, helping us with any requests during onboarding, which is quite atypical of SaaS providers. The solution is well documented, and the team remain responsive if ever we have a query. We have also been able to put forward our own ideas and custom requirements, which have been expertly designed and delivered by the ProvisionPoint Development team."
Bucher Emhart Glass is looking to introduce project based Teams in the near future and take advantage of ProvisionPoint Workspaces lifecycle policies feature with its ability to manage leases, expiry dates and archiving. They are also considering extending ProvisionPoint Workspaces to in order to provision SharePoint libraries and file permissions.