When you decide to use SharePoint for your organization or enterprise for smooth and seamless collaboration and document management, you will come across many superior features and functionalities and the benefits SharePoint offers. These features have been specifically designed to cater to your various business needs and requirements. SharePoint Look Book is one such feature that helps you manage your operations well.
SharePoint Look Book is a set of pre-designed templates that you will find on all SharePoint sites. Hosted by Microsoft, you can easily download these templates for SharePoint.
You will come across a wide range of Look Book templates with different designs, themes, and descriptions. You can choose and download templates that you find worthy enough for your business requirements.
Why do you need SharePoint Look Book?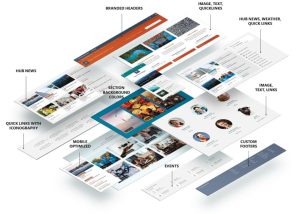 Look Book is one of the SharePoint sites examples that help beginners get familiar with SharePoint. With these examples, you can start experimenting and envisioning the appropriate intranet sites for your organization.
Also, when you transition from other collaboration tools to SharePoint, it might be challenging for you, especially if you are new to this platform. SharePoint Look Book offers you a good opportunity to check out different SharePoint design capabilities without any custom code.
What is the SharePoint Look Book?
When we start working with SharePoint, we want to create different intranet sites for smooth collaboration among teams. SharePoint Look Book is a site template for your SharePoint Online Intranet. These are customized intranet SharePoint examples that can be downloaded and customized as per your preferences and requirements.
Look Book templates are pre-designed with different SharePoint web parts, tailored layouts, and designs. Once downloaded, you can make them custom as per your organizational needs. You can change the color, delete web parts you don't require, and move them across the pages.
The biggest advantage of using the SharePoint Look Book is gaining important information about your Intranet's visual design and layout. It can be a starting point for you to take your intranet site to another level by customizing it. Remember that SharePoint Look Book, a SharePoint template site, is available as Modern site templates only.
Templates for SharePoint: What's Available?
There is a wide range of templates for SharePoint available for you to reinvent your SharePoint sites for efficient and highly productive collaboration, communication, and engagement among teams. You can create intranet sites in SharePoint that are visually appealing, highly functional, and highly responsive.
To access the SharePoint Look Book, you should first visit https://lookbook.microsoft.com.
Once you visit this page, you will get the option "Create Stunning Sites."
There is a wide range of templates under different tabs such as Organization, Department, Team, Community, Solutions, Schools, SharePoint Syntex. You can check out different templates and choose one for your organization that you find suitable and useful.
How do you install Look Book templates?
It is very easy to add the template you have selected for your tenant. All you need to do is to follow the steps mentioned below: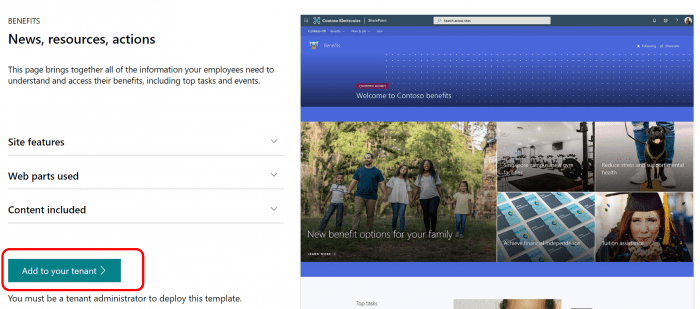 First, you need to choose the template. Click on the template once you have made up your mind.
You will be redirected to the next screen, where you have to click on the ADD TO YOUR TENANT button.
If you have not signed in to your Microsoft Office 365 account, you need to do it.
Now, you will be redirected to the next screen to customize the Site title and URL and then click on Provision.
Now, you need to click on Confirm, and all your changes will be saved.
You will get a confirmation message.
It will just take 5 to 10 minutes to create a site.
You will see a site added to your tenant. Additionally, you will get an email confirmation.
Deploying Look Book Templates: Next Steps
Once you have downloaded the Look Book template, you need to follow certain steps before offering users access. Here is a list of the steps:
Replace demo content on the site with your original corporate data or information.
You can also change the theme colors to make the site more brand-aligned if needed.
Moreover, you will find some useless links that you need to update or remove.
You will also need to delete some configuration of web parts which might not be necessary.
Although Look Book templates are good to start your journey towards your Intranet's visual design, it is not the best intranet solution. You need to do much more before you begin using a SharePoint Look Book template. Also, you need to remember that the SharePoint Look Book does not address many important Intranet areas such as Information Architecture, SharePoint Permissions, Data Retention, Site Structure, etc.
End Note
SharePoint Look Book is ideal for organizations using SharePoint for the first time. It offers customized site templates that can be installed quickly and used for superior collaboration and team management. To improve your SharePoint functionalities and features, you can also go for some third-party SharePoint apps, add-ons, and web parts. KWizCom is a leading global developer of various apps for Microsoft 365 and Teams, as well as numerous SharePoint add-ons and web parts. You can visit www.kwizcom.com to know more.