Microsoft SharePoint calendars are a core feature of SharePoint and a vital part of its functionality. Getting the most out of SharePoint and maximizing its potential requires users to know how to create and implement calendars properly.
There is considerable confusion around the SharePoint calendar web part feature, meaning many administrators simply avoid using it at all. Successfully leveraging its functionality allows you to effectively manage reminders, appointments, and events from within the SharePoint framework.
For comprehensive insights into calendars on SharePoint, KWizCom recommends reading this guide from the University of Wisconsin.
What are SharePoint Calendars?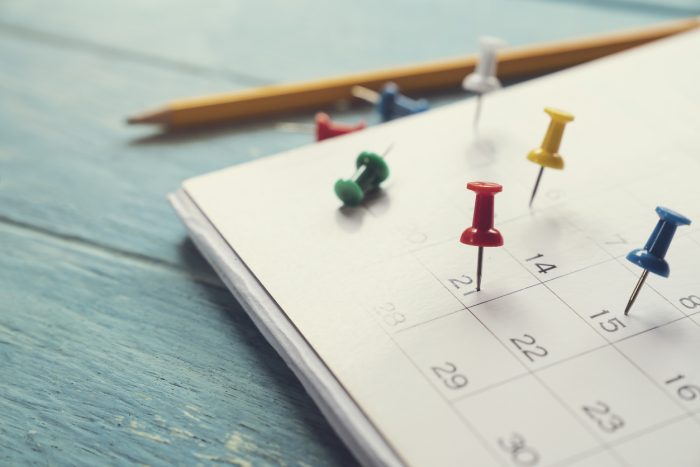 When you add a calendar to SharePoint, you are essentially creating a custom list within SharePoint. It contains all the metadata relating to events, appointments, and reminders. The list itself sits within a custom SharePoint site.
Multiple calendars can be kept within the same site. Using the SharePoint calendar overlay feature for SharePoint 2021 calendars, you can create separate calendars, as well as overlaid views. Therefore, administrators can adopt a streamlined approach to specific team meetings and projects.
How are SharePoint Calendars Used?
With SharePoint Calendars, you can create different calendars to manage various deadlines within your business. It's possible to create multiple SharePoint calendar web parts for separate departments. This can help administrators keep their teams organized.
Separate calendars in SharePoint can be created, including:
Sales & marketing calendar
Training calendar
Client calendar
Calendars can even be synchronized with Outlook Calendar to access all events within the native Outlook interface. This means team members aren't required to visit SharePoint every time they want to access their calendars.
Full synchronization also enables users to update both SharePoint and Outlook calendars at the same time. Furthermore, it becomes simple to drag-and-drop events from one native interface to another.
As with any SharePoint feature, users can access their calendars remotely from any Internet-enabled device. All they need are a stable connection and a unique login.
There's no better way to make sure everyone within your organization is on the same wavelength, whether they are in the office or working remotely.
SharePoint Calendar Features
Calendars in SharePoint come with several features to make managing your business simple.
Some of the critical functionalities at the core of SharePoint calendars include:
SharePoint Calendar Overlay
Combine separate calendars to create a consolidated view of all major upcoming events and reminders. Overlays can be completely customized according to your needs.
The SharePoint calendar rollup feature enables you to aggregate up to 10 calendars across multiple sites. Data is presented on the same screen, thus allowing for simplified reporting.
Outlook Calendar Synchronization
Combine SharePoint calendars with the popular Outlook Calendars feature. Manage your calendars from either interface, and they will automatically synchronize across both platforms.
Execute any approval and/or workflow with your calendar. Since calendars are essentially just SharePoint lists, most of the same list functions are usable here.
Calendars may be fully embedded on classical and modern pages.
Creating a SharePoint group calendar to streamline your organization comes with so many powerful features that you will wonder how your business got along without it.
How to Create a SharePoint Calendar
Leverage the full potential of SharePoint's collaboration opportunities by learning how to create and adjust calendars. Adding a calendar the right way allows team members to gain easy access to events and company schedules.
Here's how to create a SharePoint calendar list for your team.
Step One – Obtain Suitable Access Permission
Only certain users will be able to create a SharePoint calendar. Make sure you not only have the necessary access permissions but are also creating a calendar on a public site.
If you create your calendar elsewhere, your team will not be able to gain access. Site administrators may choose to limit access to specific team calendars or provide view-only access via a consolidated calendar overlay.
Step Two – Create the Base Calendar
Begin by navigating to "Site Contents," click "New," and then select the "Calendar" app from the dropdown menu. This is where you can create a base calendar. Click on "Advanced Options" to begin adding the necessary metadata to your new calendar.
The options on this form include:
Create a calendar name
Add a short calendar description
Define the calendar type
Users also have the option to make either a personal calendar or a SharePoint group calendar. To add other team members, select a group calendar as the "Calendar Type."
Step Three – Add Users to the Calendar
If you want other users to be able to access your calendar, you can add people from a list of users that will appear in the calendar creation pop-up box. Unfortunately, you cannot add external addresses with out-of-the-box versions of SharePoint.
User permissions can be changed. You may allow team members to add new metadata to the calendar or allow them view-only access.
SharePoint Calendar Limitations
The vanilla version of SharePoint calendars is not the perfect program. It comes with its fair share of limitations. Some of the drawbacks you may experience when you create a SharePoint calendar include:
Space – Calendars take up a considerable amount of page space, and there's currently no option to configure the size.
Limited Colors – Larger organizations may struggle to differentiate between calendars as SharePoint calendar overlay comes with a limited range of colors.
Login Only – Unfortunately, users must log in every time they wish to view a calendar. There is no option for logged out users to check their calendars at a glance.
Thankfully, there are solutions to many of these problems. KWizCom solutions allow users to overcome the limitations imposed by SharePoint and enhance the functionality of the out-of-the-box platform.
KWizCom Solutions
Enhance and maximize the potential of your default SharePoint calendar view by adding KWizCom web parts and extensions to your setup. The SharePoint Calendar web part might be of particular interest. These web part allows you to add a level of functionality that is not available with default SharePoint.
Calendar Plus App (SPFx)
Large, established organizations and growing businesses are in a constant struggle to wrangle their data.
With multiple departments, maintaining control of data originating from several sources can be difficult. Install the best-
selling KWizCom Calendar Plus app for Microsoft 365 (SPFx) to roll up all personal and group scheduling data into a single aggregated SharePoint calendar view. The Calendar Plus app can be added to Microsoft Teams.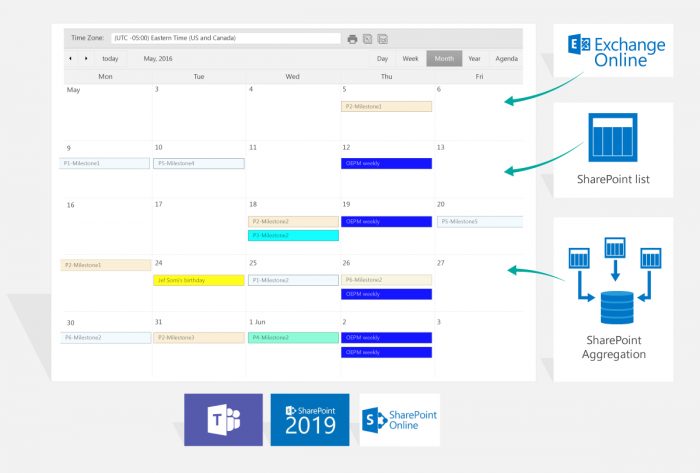 SharePoint List Filter Plus Web Part
Finding and acquiring data with a few clicks is difficult when dealing with mass amounts of metadata.
KWizCom List Filter Plus web part makes it simple to pinpoint data from across your web farm. Additionally, it comes with custom reporting features, so you can efficiently manage each department's upcoming itinerary.
Printing Feature
Convert any calendar to a PDF file and print anything directly from SharePoint. Ideal when handling business trips or operating in areas where access to the native SharePoint dashboard may be problematic.
This convenient KWizCom web part enhances the functionality of your out-of-the-box SharePoint.
List Inline Editor
Using data from Microsoft Excel or need to update multiple calendars at once?
Schedules change all the time, and individually editing each calendar takes up valuable time. With the KWizCom List Inline Editor extension, you can bulk edit your SharePoint lists.
If an urgent client cancels or a postpones a project, you can easily update multiple calendars at the click of a button. Plus, it's fully compatible with Excel, so importing data into SharePoint calendars couldn't be more convenient.
Choose KWizCom
We are a leading global developer of  SharePoint Forms and Workflows. Additionally, we create various SharePoint web parts, add-ons, and apps for Microsoft 365. As a result, you're guaranteed to find a solution that fits your needs.