Having a paperless office has many benefits. It saves you space, time and efforts to locate the necessary documents. In addition, it boosts productivity and efficiency within the office as the transfer of information becomes quick and efficient. However, the journey towards the digitization of documents is not as easy as it may seem. Managing large amounts of paperwork on a daily basis is a time consuming and challenging task.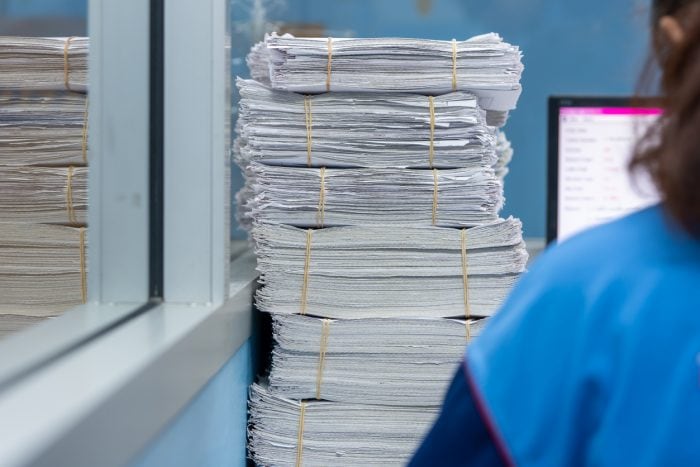 SharePoint, powered by Microsoft, is a highly customizable, cloud-based platform that allows content collaboration and management for organizations to work with improved productivity and efficiency. It is a safe and robust platform to store, manage, share, organize and access documents, files and information from diverse locations and various devices.
Since the pandemic forced many people to work remotely, now more than ever it is crucial for us to access our documents and files securely and be able to safely manage and share them with our colleagues. Employees who work from their home offices regularly require converting their paper documents into digital ones. They find themselves spending much of their valuable time doing this repetitive work manually.
The Process of Scanning Papers to SharePoint (out-of-the-box)
When converting paper documents into digital ones using SharePoint Online, the process is time-consuming, annoying, and exhausting. Ask any person who is doing it manually. What is the use of technology if you have to do the same task manually and repetitively?
The current document scanning process in SharePoint is manual, which is far from being ideal. The process goes like this:
First, you need to scan a document to a local folder on your desktop
Next, you need to upload each scanned document to SharePoint Online
Then you need to tag it and create metadata
Not a feasible solution, right?
What is the best and fastest way to scan documents to SharePoint?
So what can we do to overcome this issue and save time? This is where KWizCom's SharePoint Scan app comes to the rescue.
Scan app for Microsoft 365 allows you to directly scan documents to SharePoint. This makes you work more efficiently without the need to leave your SharePoint interface. The SharePoint Scan app is harmoniously integrated with SharePoint interface so you get the same familiar look and feel you are used to. This allows you to easily and quickly scan documents into a library or attach them to a list item with the help of integrated scanning menus. Furthermore, you can scan papers into single or multiple documents, configure properties/values, and upload them into list attachments and libraries in a single click.
Multi-lingual OCR
The SharePoint Scan app allows SharePoint end users to create indexed searchable PDF documents with the multi-lingual OCR (optical character recognition) feature. It allows users to save the scanned files as searchable and crawlable PDF files. In addition, the app auto-fills metadata on multiple files. This Multi-lingual OCR is an effective and powerful feature that empowers SharePoint business users to search files easily, quickly, and without any efforts.
Zonal OCR
Zonal OCR is one of the distinctive features that KWizCom's SharePoint Scan app offers to users. Let's understand how Zonal OCR works in detail.
Quotes, purchase orders, invoices are some of the documents that can have the same type and structure. When you have thousands of quotes, invoices or purchase orders, you have to enter property values manually in the document library every time you upload a new document. These property values help users to effortlessly find the documents when they need them. It would be a tiring process to scan multiple documents and update property values for each document manually.
How can we improve this process of scanning documents to SharePoint?
Let's take a look at the invoice example. All invoices with the same type and structure have property values that are different for each document, for example, invoice number, date, the account number and the company name. These properties appear at the exact location in each invoice.
In this case, instead of having to manually update the Date, Invoice number, the Account and Company properties for each scanned invoice, it would be great to have this done automatically by extracting that information from the scanned invoice files. So what we need to do is tell the scan app to map a location in the scanned file to a matching column (property column) in the library to which the file is uploaded.
Now, the scan app extracts the information automatically from the scanned invoice file. It allows users to map between specific pre-defined regions in the document and matching columns in a library. You can create an OCR mapping template for each document type. When you scan a new invoice document, the scan app will automatically extract properties and update the library's file properties.
Conclusion
Scanning documents to SharePoint manually is a time-consuming and repetitive task. With the scan app for SharePoint Online there is no need to scan documents and add properties in the document library manually. The users can easily create indexed searchable PDF documents with the multi-lingual OCR feature. The Zonal OCR feature of the SharePoint scan app allows business users bulk scanning of many identical documents with automatic property tagging in the library for each document in a single click. Trust KWizCom's Scan app to make scanning documents to SharePoint quick and effortless.
Here is a short video to see KWizCom's SharePoint Scan app along with the Zonal OCR feature in action.